Uber already had a presence in the Piedmont Triangle area, when a local taxi service asked me to help out with branding. Their existing identity was dated and didn't connect with their existing customers and clients. They saw other places like NYC being disrupted by ride-sharing platforms like Lyft and Uber. Personally, I prefer Uber. I don't like the taxi's math and gadgets they use. I don't trust how the meters work. I have a pretty messy car, so for me to say bad things about a taxi cab must mean that a lot of the cabs I've been in have not smelled good or looked good. One time, I was picked up from the auto mechanic in a taxi that was in worse shape than the car I was dropping off to get looked at. Uber makes a lot of sense in it's approach to transportation. It's simple, predictive, and it's fair.
There's a perfectly good reason for taxi and car services to feel threatened by something like this. What we did was quite basic and just wrote down a list of differences- both pros and cons to both services. Ridesharing platforms had a lot of diverse different types of people. Controlling that experience would be hard if not impossible, so we started there. Uber can't control the customer experience. XL is their answer to that, but even then, different levels of customer service, different people- many more variables.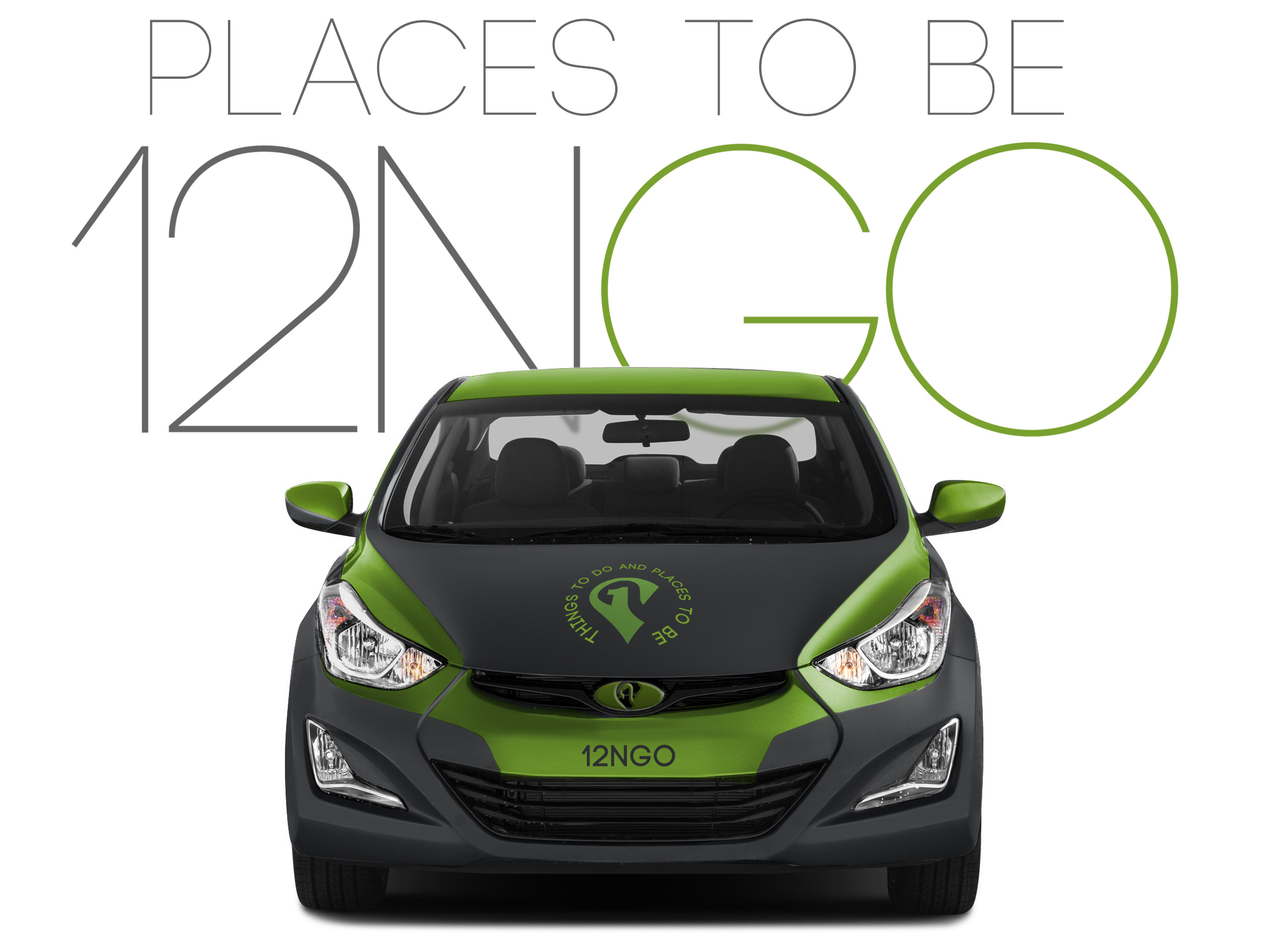 Security and trust was also something we wanted to convey. Uber doesn't have a traditional screening/hiring process with corporate style background/drug tests. People care about that sorta stuff.
The owner wasn't OK with changing the name. He had already changed it from 5'n'go, to 8'n'go to 10'n'go and well… Nevermind that there's only 1 extremely rare fare that's $12. A huge part of marketing is looking at the product or service you're marketing. It's easier and cheaper to market a great product. It makes the experience of designing something that's beneficial a lot more enjoyable and efficient.
I always need some sort of reason, theme, or belief in my work. It challenges me when I try to approach work to technically. Catchphrases, mood boards, and even videos are a great way to control the tempo and pitch of your finished piece. All those things help support this major plot that I'm trying to put together. We made a lot of lists on this. Lists for why people call car and rides in the first place, lists for where they're going, lists of different types of people riding. Places to be, places to go, there were a few others. We all settled on one and then Toyota came out with an ad using it, and so we all settled on the second choice. I wanted the experience to be smart, fun, and enjoyable.
[the_ad id="67376″]With a fleet of 16 cars and vans, our job was to come up with some refreshing ideas. There are a lot of reasons to call a car service. We made a list of instances like going to the airport or having car problems. Getting from Point A to B and not having the ability comes down to necessity. We also needed to look at the differences between ride-sharing services and taxi services and really think about, not only how to advertise those key points, but also- what can we change or adopt to add to the client experience.
We recommended the old decals to be removed from the cars and a custom vinyl wrap to replace the look. We wanted to look friendly, dependable, and sharp. We also wanted to appeal to a more young professionals in the area. The original mockup didn't have 12ngo written on the sides. This company has been around for a while. People know who they are in this area. Conveying the name in big letters ruins the feel of it, in my opinion.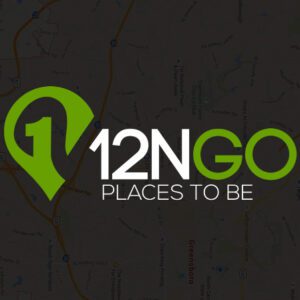 Each cab had a funny phrase at the rear of the vehicle, making it an experience to see one of the branded vehicles. We also placed NFC Tap points at the rear of the vehicle so that People with NFC enabled phones could hail a cab by tapping their phone on a vehicle. Branded gear to make sure the staff looks recognizable, friendly, and sharp was also mocked up. There was no way my green suspender idea was going to pass, so i left it out. This increases the rapport and profesionalism of the driver.
The finished logo took the familiar places icon and put a 12 in it. This was now a brand that could go toe to toe with Uber in our local market. With a change in service offerings, they could have leveraged their unique abilities over Uber's and other ridesharing platforms.
12nGo loved the logo, but I think the other stuff was just not good talk for ol' Greensboro. The majority of businesses in the High Point/Greensboro area lack that experience factor. They took the logo though and it seems like they did something with it. :\ They would have benefited more from branding and styling guide. I think it's a great example of why a document like that shoud always be attached to your logo. Your set of instructions for the brand. Without it, each designer after you (and there will be) will treat it like a game of telephone; gradually losing the precision in the message of the original piece. We spent about a month with 12NGO- both in design and research. Here are some other things we came up with.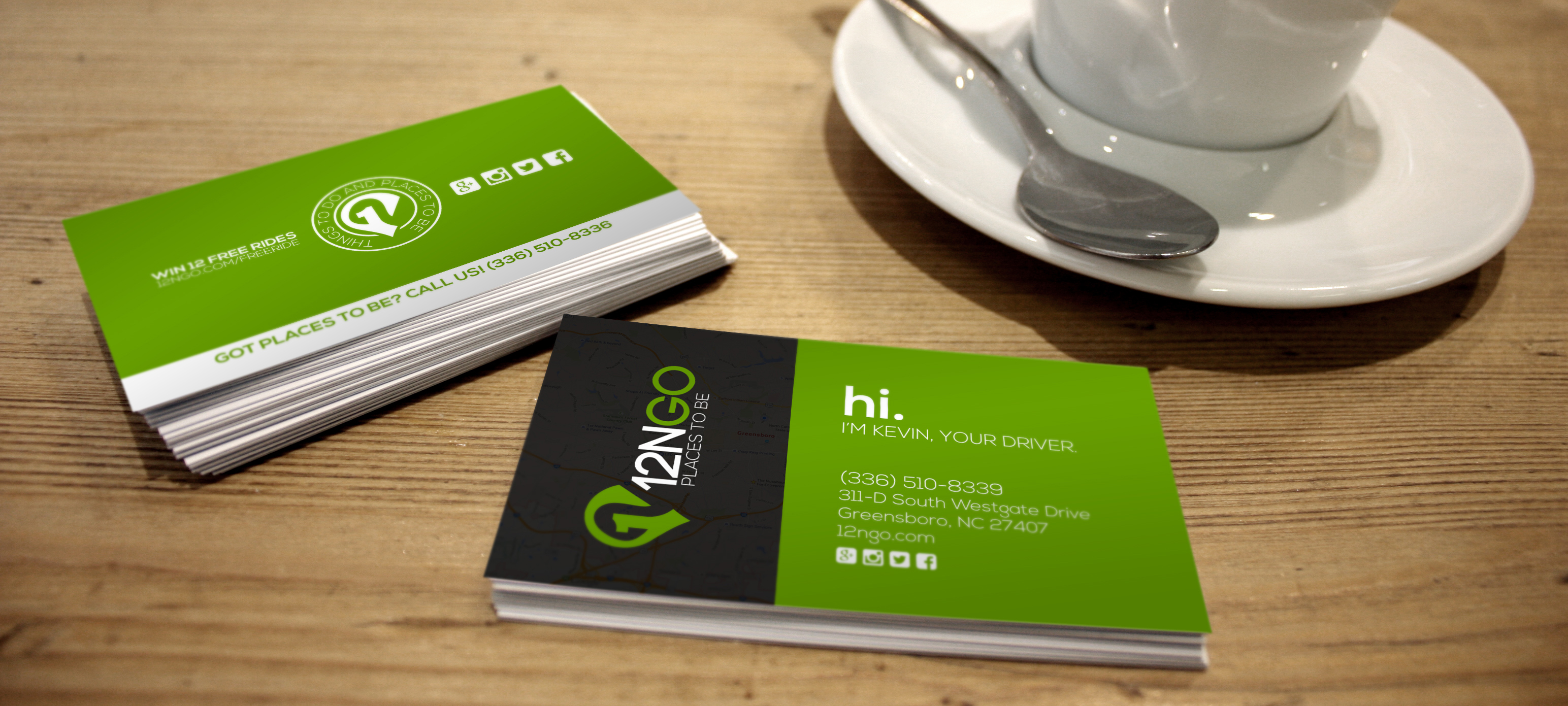 Make an app.
Of all the companies that put together useless apps, this is one of those industries where you probably want the convenience of automation and less phone calls. I don't like calling people and telling them an address that I don't know. I don't like horns honking either alerting people to watch me as I leave my sanctuary. If only there was some way for a rider to know the whereabouts of the ride and vice versa. Time on a telephone and time waiting on customers to get to the car- take just two of those. The strange thing is that I've never made an Uber wait for me. I have made a cab wait, but that's because I didn't know where they were. Anyways if we can cut both those down by roughly 10%- the time involved, this would be worth it. Not to mention the customer doesn't have to pull out there phone and wait to talk to someone; try and figure out where they are; and then wait, mindlessly waiting for a bright yellow reflection of some sort.
Codecanyon has a bunch of app templates for ridesharing and cab services. Here's one that I'm playing with. I will write about this one in a detailed post. This would take about 1 month to customize with colors and artwork, tweak some features, and get them submitted to iphone and android app markets. From there, any decent VPS for about $50/mo could run the script.
[contentcards url="https://codecanyon.net/item/taxi-application-android-solution-dashboard/21437882?ref=jbbenjamin" target="_blank"]
Ad supported rides.
Could we place tasteful ads in the headrests? The same monitors would also greet the riders and display the route and destination (data passed from app.) Based on the destination, and a user profile, a queue of ads would be prepared (about 2 to 3 every 15 minutes.) Reuters Streaming news would play in between those clips. Or rather the ads would play in between some news stories. Reuters has the ability to download stories vs streaming for every ride, so it would make things cheaper and easier. 3 ads could fetch up to $10 per ride,  making this a viable option. Targeting ads and behaviors will always fetch more money. So Sally, 24; married; 2 kids; going to walmart at 2PM is good info for advertisers. Peak time is right before a purchase. Additionally, we thought of this waze like feature that suggests a stop. So, McDonald's would throw you an alert on our app asking if youd like a McCafe for a buck, and you'd be like yasssssss. We could charge advertisers a little more for those types of deals. We were desperately trying to find ways for all rides to be $12 and this was just one of them.
Experience the Backseat.
From the smell of their ride to church to their choice of a free snack and beverage, to a green fuzzy soft blanket folded up on the middle of the backseat. There are simple things we can do within our businesses that to me is just marketing and advertising naturally. Those products and services are usually part of a brand that pays attention to the needs of the customer; they enjoy satisfying those needs and after their done doing the standard, they go above and beyond and hand you a green blanket and a cookie.